As follows from numerous leaks, in addition to the Galaxy S21 / S21 + and Galaxy S21 Ultra smartphones , as well as the Galaxy Buds Pro headphones , Samsung nevertheless introduced a beacon for remotely tracking it and the things attached to it, available in two modifications: regular and version with the prefix "+". It can work in the opposite direction, forcing the paired smartphone to make a sound. It should be noted right away that the SmartTag beacon is only compatible with Samsung Galaxy devices.
SmartTag is paired with a mobile device via Bluetooth Low Energy using the Samsung SmartThings app. When the beacon is out of range of the owner's smartphone's Bluetooth signal, it scans the surrounding devices around it – if there are Galaxy series gadgets nearby, SmartTag sends them encrypted information about their location, and they send it to Samsung's servers. It is this technology that allows you to find the beacon anywhere in the world (if there are Galaxy devices on Android 8.0 and newer nearby).
Thanks to the hole in the body, SmartTag can be attached with a lanyard or carabiner to keys, bags, collars and any other items. The CR2032 battery installed in the beacon will last about 300 days – of course, the runtime depends on the usage.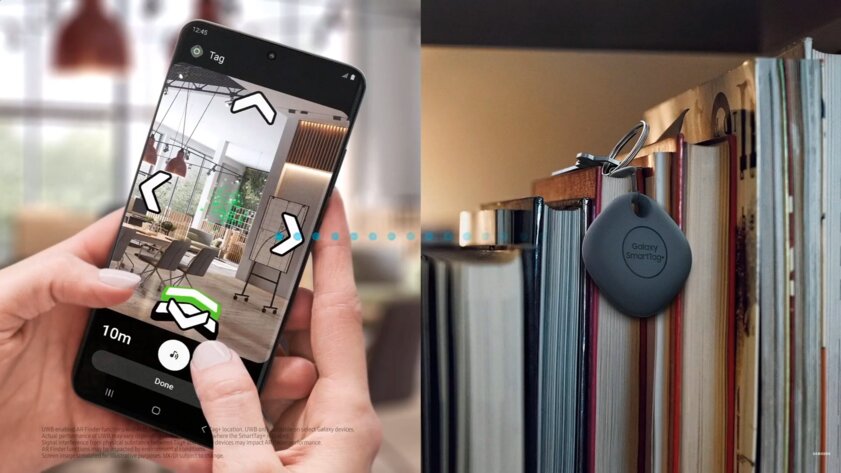 An improved version of the beacon in the face of SmartTag + works on the basis of ultra-wideband UWB technology, which allows you to track the exact location of the gadget in space. Thanks to this SmartTag +, the location can be determined even by the augmented reality of the companion application, if the beacon is located no more than 15 meters from the user. This model is only compatible with Galaxy devices equipped with UWB technology, including the Galaxy S21 + and Galaxy S21 Ultra.
Samsung has prepared a variety of SmartTag cases to suit different styles and people. Apparently, some got a waterproof case.
The Galaxy SmartTag will go on sale worldwide on January 29 for $ 30. In the future, it will be possible to buy a set of 2 or 4 beacons for $ 50 and $ 85, respectively. SmartTag + was priced at $ 40, and a set of 2 copies will cost $ 65.