Previously, the manufacturer had to abandon this solution due to the too thin frame around the display.
In 2020, Xiaomi introduced rather unusual laptops Mi Notebook 14 and Mi Notebook 14 Horizon Edition – due to the too thin frame around the display, they were deprived of a built-in webcam, it was presented by an external gadget called Mi Webcam HD. Naturally, not everyone liked this solution, because the main advantage of the laptop is lost – mobility and solidity. Fortunately, the manufacturer has been fixing the bugs by unveiling the new Mi Notebook 14 (IC) today, January 19th, which boasts an integrated webcam located above the display.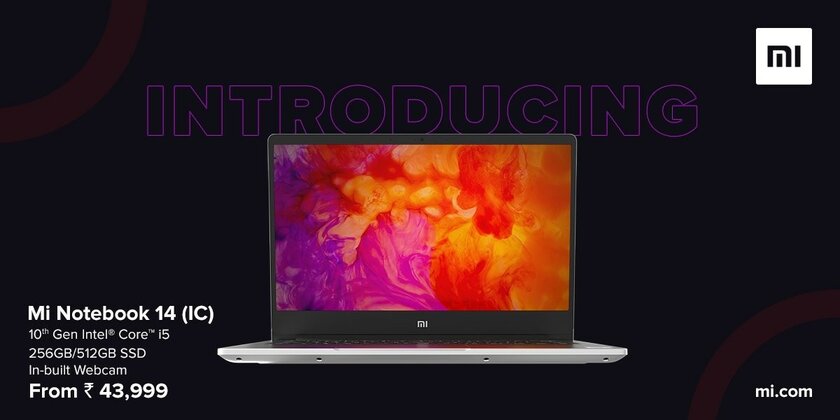 The performance is based on the 10th generation Intel Core i5-10210U processor, the integrated graphics Intel UHD Graphics 620 is responsible for the graphics. In the basic configuration, the user gets 8 GB of RAM and 256 GB of internal memory on a SATA3 solid-state drive, but there is also an option for 512 GB and the most advanced version of a laptop with NVIDIA GeForce MX250 discrete graphics. It's strange, of course, that the manufacturer decided to use a 10th generation Intel processor, while large companies are actively using the more recent 11th generation. On the other hand, the basic version of the laptop costs only $ 600, while the flagship model costs $ 680 – quite affordable by modern standards.
The laptop also boasts a 14-inch display with a resolution of 1920 × 1080 pixels, Wi-Fi 802.11ac and Bluetooth 5.0 wireless modules, three USB ports, one HDMI and a headphone jack. With all its hardware component, the laptop weighs 1.5 kilograms, the case thickness is 18 millimeters. The model falls short of the lightest and most compact laptop in the segment, but the dimensions are quite decent.
Xiaomi Mi Notebook 14 (IC) is already available for purchase on the official website of Xiaomi India, Amazon or Flipkart.