Do you love to travel and explore? Then you need a mobile according to your rhythm of life, one like the Blackview BV9800 Pro. This resistant Blackview mobile offers you impressive images with its camera, in addition to having a thermal camera function that will make you see the world from another perspective.
We comment on the Blackview BV9800 Pro
The Blackview BV9800 Pro is a rugged smartphone that comes with 6GB of RAN and 128GB of storage space. On its 6.3 "screen you will enjoy a Full HD + resolution that will allow you to see the world in all kinds of detail. In addition to its resistance, it offers great autonomy and has a 48 MP triple rear camera , another 16 MP selfie , as well as a thermal camera.
Storage and camera for your trips
The Blackview BV9800 Pro is a phone that, as we have already anticipated, is designed for those who like to travel, since it stands out, above all, for being robust and durable. Its design makes it resistant, so it will come in handy for those whose jobs involve some type of risk.
Thanks to the fact that it comes with a 6GB RAM and 128 GB of storage, we can store all the photos of our trips , as well as all the experiences we have achieved in each place we have visited. In fact, thanks to its resistance, you can do what you like the most without worrying.
Everyone also knows that one of the activities that we like to carry out the most when we go on a trip or are exploring is taking photos. Therefore, this robust phone comes with a triple rear camera that is made up of a 48 MP SONY sensor. This will allow you to obtain images of great quality and detail, plus it also has a depth sensor and a thermal sensor for adventure lovers.
In fact, being so resistant and coming with these features, you can give it different uses, for example, if you camp outside and make a bonfire, you will be able to know the state of the fire or the tools you are going to use. All this without forgetting, also, that it comes with a 16 MP front camera so that you can immortalize yourself and your companions on your trips with outstanding quality.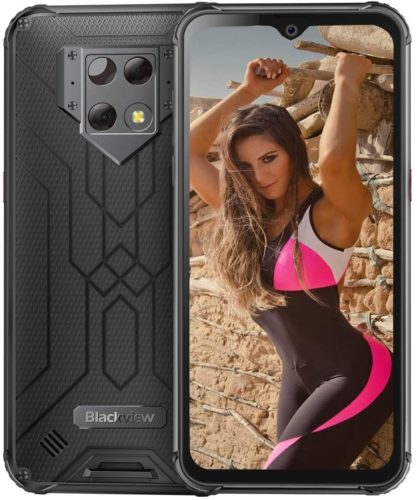 See the world safely and in detail
Another interesting feature that we can find on this smartphone can be seen on its screen. This is 6.3 ", in addition to offering a Full HD + resolution, so everything captured by it and the content will be seen with vibrant and detailed colors. In addition, as it is built with a Croning Gorilla Class 3 glass, it offers you great resistance, resistant to bumps and scratches that are common when we travel or are exploring.
To prove that it is a very resistant phone, it comes with Powerful certifications and with a very large screen IP68 *, IP69K and with a military certificate MIL-STD-810G, which is a type of certification that the US military gives to phones that They prove to have a higher resistance than the rest. This, together with the MediaTek Helio P70 processor, makes it work perfectly and you can not only use it to record your trips, but also even to play your favorite games.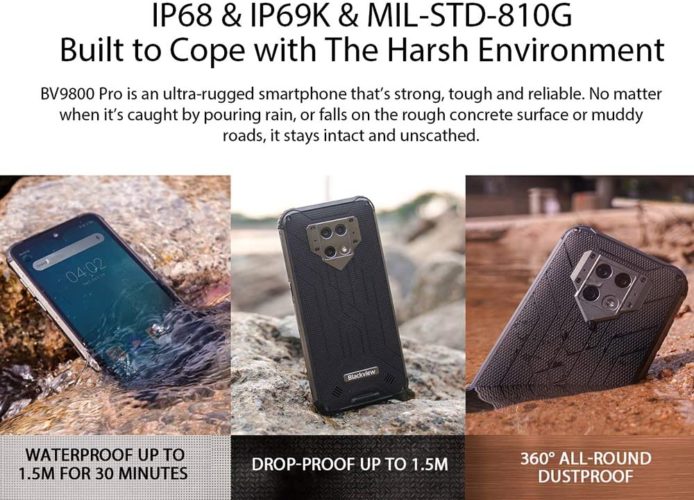 Autonomy that adapts to your rhythm of life
Finally, the Blackview BV9800 Pro is not only durable in terms of its robustness and resistance, it is also durable if we look at its autonomy. This is because it has been built with a long-lasting battery that makes the phone can be used for up to two days without having to charge it.
Thanks to this duration, it comes in handy to take it with you when you leave the house, but, even when you have to charge it, it also has innovative technologies, since it can be charged wirelessly with its 10W charge. And that's not all, it also comes with extras that will come in handy such as NFC technology and the fingerprint sensor.
As you can see, it is a very complete smartphone, designed for those who have a rhythm of life that needs a device that adapts to it and the different circumstances to which their trips, work or desire to explore the world take them.
Opinion
The first thing we have to say about this smartphone is that its value for money is average. On the one hand, it does comply with the fact that it is a robust and resistant phone, in addition to offering good quality images and working in a more or less fluid way. However, its robustness is also one of its biggest negative points.
It is a fairly heavy phone , so it sacrifices a bit at the cost of resistance its portability. In addition, your thermal camera can fail and the battery, as in so many other cases, does not offer the battery that it promises. However, if you need a "harder" mobile than conventional ones, it is always worth taking a look.