Despite everything seems to go trough some digital online solution, the need to print documents has not gone away or, on the contrary, has even increased. In this connection, many people have a logical desire to buy a home printer. Today we are looking at one of the options – Pantum P3300DN.
Design
The printer has a classic austere appearance and is sold in two variations: light gray and black. At the same time, when choosing a place for the device, you should take into account its considerable dimensions (334 × 354 × 232 mm) and weight (6.8 kg). Most of the case is made of rough plastic that does not collect fingerprints. From the unpleasant – from the factory on the printer's paper tray there is a sticker with technical information, which leaves a noticeable sticky mark. Tearing it off emotionally when unpacking, I can safely say that it is not recommended to remove it.
On top of the Pantum P3300DN are the print controls, a small black and white screen, and a fold-down paper foot. There are ventilation slots and slots on the sides of the printer for easy portability.
The printer holds 250 pages, which should be enough for most tasks. The paper is held in the tray with clips on the sides and back, which must be adjusted to fit the paper before first use. Pantum P3300DN can print not only on A4 sheets. In particular, the manufacturer claims the following list of supported formats:
A4, A5, JIS B5, IS0 B5, A6, Letter, Legal, Executive, Folio, Oficio, Statement, Japanese Postcard, Monarch Envelope, DL Envelope, C5 Envelope, C6 Envelope, # 10 Envelope, ZL Large 16K, Large 32K , 16K, 32K, B6.
The printer is connected to the computer via a USB cable; the installation of special software is optional. I did not notice any compatibility problems during use. Testing was conducted with both macOS and Windows 10.
The printer spends no more than 8.5 seconds to print one page, and in a minute, provided that single-sided printing is used, it can produce 33 pages. The manufacturer also claims that the printer can print 60,000 pages per month, which is an excellent result.
There are no complaints about the picture quality. It is black and white and has a maximum resolution of 1200 x 1200 dpi, which is sufficient for printing text as well as for more complex images. Perhaps, it is worth noting only the strong heating of the paper, because of which it sometimes bends and curls.
Refillable cartridge
The feature of Pantum cartridges is their refillability. With the help of a branded spare parts kit, which costs about 700 rubles, you can extend the print life, significantly saving on the purchase of the entire cartridge for 2,500 rubles. A set of chip and toner will allow the printer to print about 700 more pages, but there is a trick in the form of an "eternal" chip.
The latter will give you the opportunity to buy only toner bottles, which cost no more than 100 rubles. Summing up, it is worth saying that in terms of refueling, Pantum equipment is a very profitable purchase that will definitely not ruin you after purchase.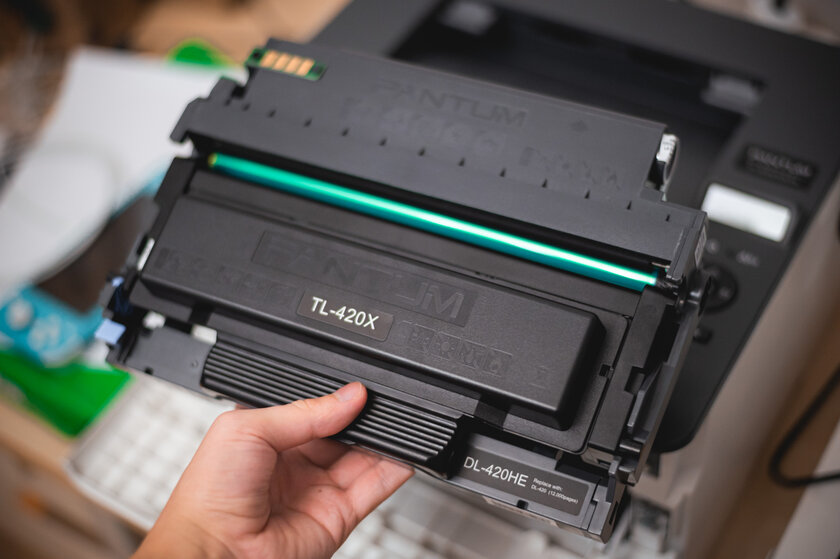 The printer is equipped with a TL-420X cartridge, which is enough to print 6000 pages. It should be noted that "out of the box" it is packed in paper, which must be removed before use. If you plan to save toner, you can activate the corresponding item in the settings, which will make the print a little more faded, but will significantly increase the cartridge resource.
Recall after two weeks of use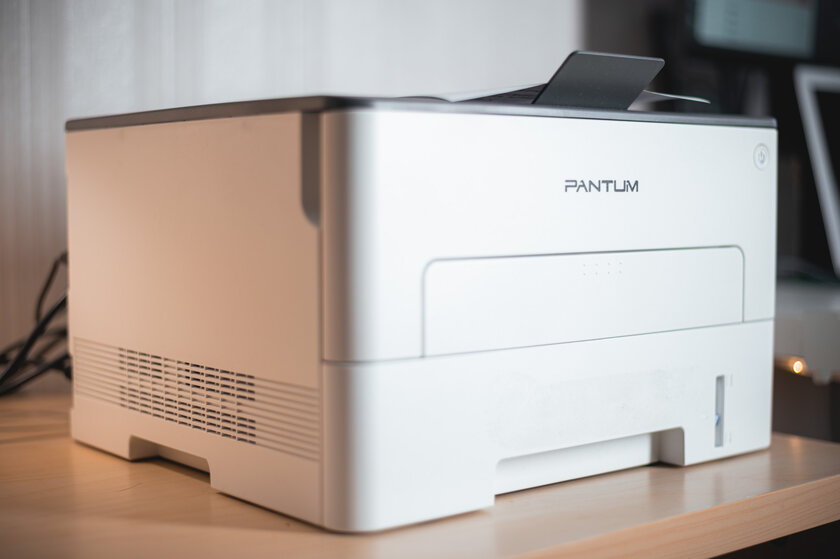 Pros
High-quality and fast printing.
Convenient and inexpensive refill cartridges.
High-quality assembly and strict design.
Ability to print on various paper sizes.
Cons
Prints in b / w only.
The pages get hot and deformed.
Conclusion
Pantum P3300DN is an excellent solution for both traditional and home office. The printer boasts fast, high-quality prints, convenient refills, and support for a variety of paper sizes.
Of the unpleasant, it is worth noting the possibility of only black and white printing and page heating. Summing up, I want to say that this is more of a working device than a universal option "for everyone." This is supported by the absence of color printing and a very large body. This should be considered when buying.